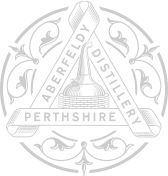 The impressive Victorian buildings of Aberfeldy Distillery pay silent testament to a tradition of whisky-making stretching back over generations.
Aberfeldy is just a stone's throw from the birthplace of our founder's father, John Dewar. With land acquired from the Marquis of Breadalbane and architecture designed by Charles Doig, the distillery rose up to begin production in 1898.
Born in a croft near Aberfeldy in 1805, John Dewar was introduced to the wine and spirits trade by a distant relative. After learning his trade, he set up his own business and became an early pioneer of Blended Scotch.
Such was his success, and to fulfil demand, his two sons: John Alexander and Tommy Dewar, built Aberfeldy Distillery to provide the heart malt whisky content for Dewar's blends. By the end of the century Dewar's was selling half a million cases per year, sealing Aberfeldy's success.
John Dewar & Sons amalgamated with the Distillers Company Ltd (DCL), including the transfer of Aberfeldy Distillery, in 1925. In 1972 the Aberfeldy site doubled in capacity to its present size. It changed ownership in 1998 when the Dewar's estate, was bought by current owners, Bacardi-Martini.
Investing in a highly impressive educational facility – Dewar's World of Whisky – the distillery opened its door to visitors in 2000 and released Aberfeldy 12 Years Old as a Single Malt. It was in more recent times, in 2014 that the whisky was repackaged and a new, permanent aged range was launched.
To this day, the distillery still uses time-honoured techniques, and draws its waters from the Pitilie Burn, renowned for its quality – and that alluring promise of gold.
And, Aberfeldy continues to welcome whisky lovers from the around the world through its doors. Be sure to be on the look-out for the next delectable offering the from the Golden Dram.